May 31st, 2018 at 10:03 pm -
Watching the dirt fly from the wheels of a rally car as it takes a corner at high speed with the countryside whizzing by is thrilling. But if you'd rather stay in than brave the dangers of off-road racing in the real world, there are plenty of driving games that recreate this experience.
Video games have explored rallying and other types of off-road motorsport for many years. So here is a comprehensive guide to games in this genre, from old school classics to cutting edge hits.
Sega Rally Championship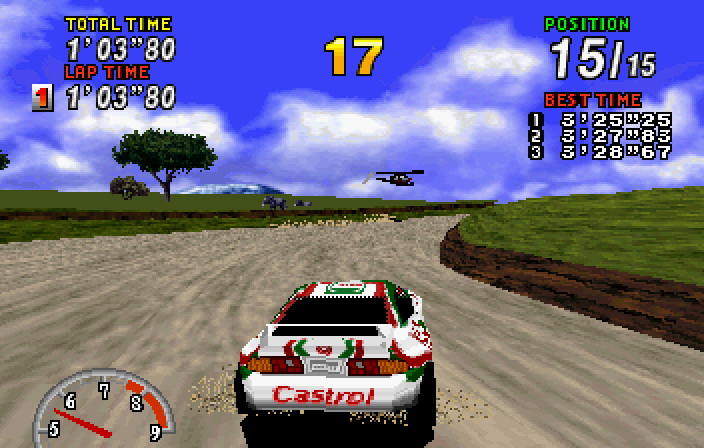 The original entry in the Sega Rally series was released back in 1994 as an arcade machine, before arriving on home consoles a year later.
It may seem primitive by modern standards, with just two cars and a handful of tracks. Thankfully it's gameplay is still exhilarating and its pumping soundtrack is a delightful blast from the past. Also, it's a good choice for those who like to play Madalin Stunt cars.
Sega's star has faded in the intervening two decades, and arcades are dead and buried. But this early rally title made its mark as a time when 3D graphics were still novel and even the inclusion of a co-driver was impressive.
Monster Truck Madness
If you wanted to go off-road in the mid-90s and you owned a Windows PC, this game from Microsoft was the best way to do it. Big trucks, blocky graphics, and tracks with a variety of shortcuts and stunt jumps made it more than just your average driving game at the time.
Like Sega Rally, there were exuberant announcers, bone-crunching audio effects, and some cool rock tunes to keep things interesting. Animated trackside distractions also helped to showcase the power of DirectX and Windows 95, although this was much more than just a tech demo.
Smuggler's Run
While most off-road racers tend to force players to stick to a pre-set path, Smuggler's Run tossed the rulebook out the window when it made its debut on the PlayStation 2 back in 2000.
Players were encouraged to get to the finish point by any means possible, taking on all sorts of terrain types while evading capture by the authorities. There were game modes which mixed things up, even more, involving battles against AI cars to control areas of a map.
A sequel was quickly produced and received a lukewarm reception at the time. But while the visuals look a little ropey today, the vehicle physics still manage to make it fun. Whether drifting through the desert or speeding through the snow, Smuggler's Run remains an enjoyable experience.
Colin McRae Rally
The Colin McRae series has evolved significantly since the first game was released way back in 1998. Today it has transformed into the Dirt franchise, with the most recent iteration arriving in 2017. And even in its current form, it still sticks with the goal of delivering realistic rally racing set out in the original.
This series has appeared on almost every console and gadget imaginable, from the PlayStation 1 and the Game Boy Colour to modern Android and iOS smartphones. New gameplay modes and features have been added over the years, but the core values remain the same. And it is regularly acclaimed as being amongst the best racing games around.
Fuel
Smuggler's Run pioneered the concept of open-world off-road racing at the turn of the millennium. Almost a decade later, Fuel took this several steps further on Xbox 360 and PS3.
One of the most impressive things about it is the vast map which gives players a real sense of scope and exploration. It even held a Guinness World Record thanks to its size and wasn't beaten until Test Drive Unlimited 2 touched down a couple of years later.
The game offers plenty of different vehicle types to experiment with, from passenger cars and sporty coupes to dirt bikes, ATVs and even a hovercraft. It borrows heavily from the Mad Max film franchise with its post-apocalyptic setting and focuses on earning fuel to make progress.
Some players might crave a more focused experience, but Fuel is definitely different enough from the rest of the off-road racing crowd to earn a place in the history of the genre.